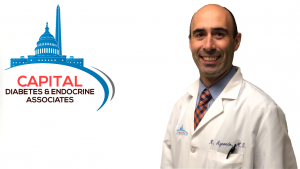 Romeu Azevedo, MD is an endocrinologist with Capital Diabetes and Endocrine Associates. He is board-certified in Endocrinology, Diabetes & Metabolism as well as Internal Medicine. He is an assistant clinical professor of medicine at The George Washington University School of Medicine & Health Sciences.
Dr. Azevedo attended medical school at UMDNJ-Robert Wood Johnson Medical School.  He completed both his residency in internal medicine and fellowship in endocrinology at The George Washington University.
Dr. Azevedo treats all endocrine and metabolic disorders and has a particular interest in diabetes, thyroid disease, obesity, hypercalcemia and hypogonadism.  While using the most up-to-date evidenced based medicine, he is exceptional at managing his diabetic patients with the latest and best technology and medicine.  Dr. Azevedo is highly experienced in managing diabetic patients on insulin pumps and continuous glucose monitors, as well as, performing thyroid ultrasounds and fine needle aspirations. He is a member of the Endocrine Society and American Association of Clinical Endocrinologists.
Dr. Azevedo speaks fluent Portuguese and Spanish.